Giron Arnis Escrima Camp in Italy / Castel San Giovanni
Outstanding coaches, great weather, great workout and great food. Does someone really need more to make a training camp to an unforgettable event?
All this and more offered us the camp in Italy from the
9th July to 12th July in Castel San Giovanni/ Italy.
However, Thursday began quite chaotic.
– Guro Frank did not get his rental car and needed 3 hours longer than planned to arrive at the training location.
– Master Joels luggage unfortunately remained in New York.
– Master Kirk's flight was severely delayed.
– Guro Jose Enrique and Graduate Antonio also got their rental car not as intended.
Guro Frank opened then, as the first on the training ground, the camp. He began with a unit "Sparring / Boxdrill" During the early afternoon, Master Kirk and Master Joel (unfortunately still without luggage) arrived. After Guro Jose Enrique and Antonio from Spain completed our group Master Kirk got in training with a unit Estilo de Fondo.
For dinner we first went to the next town into a bar -for an aperitif – and then moved on to a restaurant to enjoy good authentic Italian food.
Friday morning started with Master Kirk and an excellent lesson in "Larga Mano, Dos Manos and variants of Coconut Drills". The training ground was quite hilly and there were a lot of stones of all shapes and sizes … just the right terrain for training in Giron Arnis Escrima. There you could feel how important the correct footwork is!
Friday afternoon was a very exciting insight into "Estilo Bolante" from Master Joel. Followed by
Testing-Time for Samuele and Umberto. They had prepared some substyles. The test was open for the public and they did a really good job! Congratulations.
Saturday morning the camp was opened to all and there were many participants coming in. After the
warm-up Master Kirk began with "Striking Drills / timing to hand hits" followed by a great unit of "Estilo de Fondo and the deepening of the Hook Series".
Since almost all participants wanted to take their first test(s) in Estilo de Fondo, the afternoon was also used for public examinations.
Saturday – the day ended with fine Italian food (how could it be otherwise?). Italy is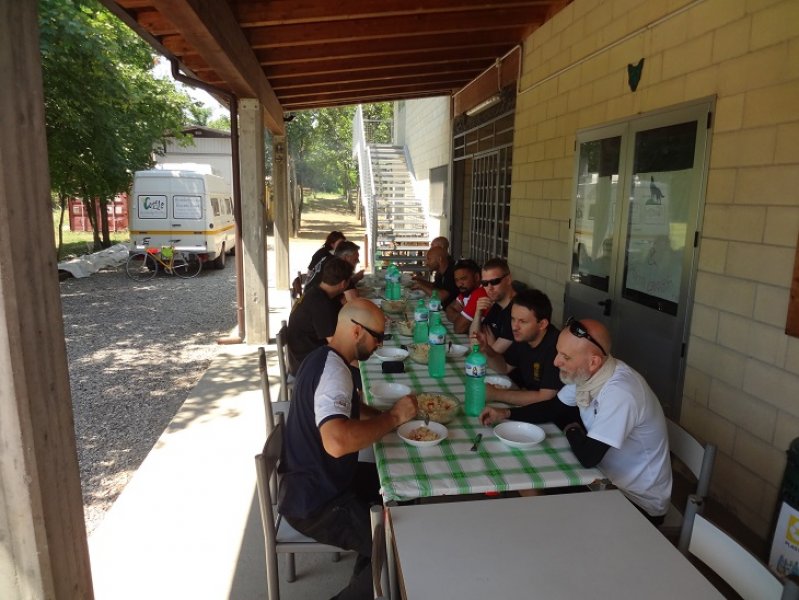 famous for good food and you could easily learn more about the country and its people just by sitting together and have some food and drinks.
By the way, the food throughout the camp was homemade by Italian mommies and daddies. Awesome!
Unfortunately the camp was coming to an end, but Master Joel Juanitas and Master Kirk McCune revealed even more highlights. So Sunday morning began with Master Joel and an exciting lesson in "Cadena de Mano, self-defense and Macabebe". Such themes felt even more realistic in such a rural enviroment.
Sunday noon was Master Kirks time again. At the insistence of the participants he gave a short workshop in the use of whips. Followed by an enthralling lesson about "Estilo de Salon".
A real successful closure of that camp.
Thanks to the Masters and the Guros for their lessons and a huge thank-you to the organizers Samuele Leonardi and Umberto Buroni
… and only as a warning: The next time we will be back !!! 🙂
Bahala Na
More pictures you will find here
Hanjo Bergmann
Bahala Na ® Martial Arts Association / Giron ® Arnis Escrima
Hamburg / Germany