50 JAHRE – 20 Stile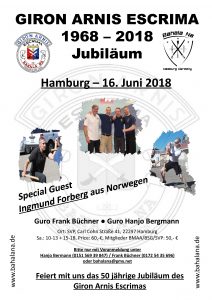 For english translation please see below!
 

Wir haben ein Jubiläum zu feiern!

1968 eröffnete Leo Giron in Tracy / Californien seinen Escrima-Club und 
begann zu unterrichten. Das Giron Arnis Escrima wurde aus der Taufe 
gehoben. Der Stil Girons ist inzwischen, ohne dass er es geplant hatte 
oder gar wollte, weltweit bekannt und hat herausragende und in der 
Kampfkunstwelt prominente Schüler ausgebildet,
unter anderem Dan Inosanto, Tony Somera, Richard Bustillo,   
Steve Tarani, Cass Magda - um nur einige zu nennen!
2018 feiert der Stil sein 50 jähriges Jubiläum. Um diesen runden 
Geburtstag gebührend zu begehen möchten wir dich gerne zu einem Seminar 
einladen.
Ausschreibung als pdf

Aus diesem Anlass haben wir uns etwas besonderes überlegt:
Guro Frank Büchner, Guro Hanjo Bergmann und, als Special Guest,
Ingmund Forberg aus Norwegen 
werden das komplette System darstellen.
Dabei werden wir auch in Techniken und Taktiken Einsichten gewähren, die 
wir normalerweise auf Seminaren nicht zeigen!

Ingmund Forberg hat lange in den USA gelebt und trainiert. Er hat neben seinem 
Training im Giron Arnis Escrima auch viel mit Tom Sotis trainiert, dem Begründer 
des AMOK Messer System.
Ingmund ist einer der ältesten aktiven Schüler außerhalb der USA und konnte noch
direkt unter Leo Giron lernen!



Wir würden uns freuen mit dir diesen Tag begehen zu können.



P.S.: Wir werden den Tag natürlich auch gebührend ausklingen lassen. Wir bitten daher um eine (verbindliche) Vorameldung.

Bahala Na
Guro Hanjo Bergmann
Guro Frank Büchner


ENGLISH Version:

Hi brothers and sisters,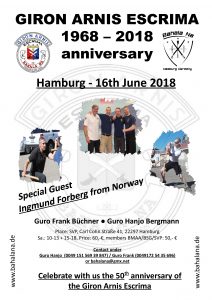 we are celebrating an anniversary!
In 1968 Leo Giron opened his Escrima-Club in Tracy/California where he started to teach his system openly.
Giron Arnis Escrima was born.
Although he never aimed for it, Leo Girons' style became world wide known and brought forth famous people .
Now in 2018 Giron Arnis Escrima is celebrating its 50th anniversary!
In order to celebrate this special birthday, we cordially invite you to a seminar.
Invitation as pdf
For this occasion we have planned something special!
Guro Frank Büchner, Guro Hanjo Bergmann and our Special Guest
Ingmund Forberg
from Norway will intruduce you to the varieties of our system.
We will also provide insights in techniques and tactics that
we usually do not show on seminars!
Ingmund Forberg has lived and trained in the US for a long time.
Apart from training Giron Arnis Escrima, Ingmund also trained with
Tom Sotis, founder of the AMOK Knife system.
Ingmund is one of the most senior students outside the US and was also able
to train under Leo Giron!
We would be happy to celebrate this day with you.
If you need any support please feel free to contact us.
Bahala Na
Guro Hanjo Bergmann
Guro Frank Büchner